A mountain adventure
Your summer vacation in Sölden
A summer on the mountains is your picture perfect dream vacation? At Hotel Garni Urbanhof you will live the dream. Thanks to the great location in Sölden, the mountains and numerous leisure activities are within easy reach. Hike, bike and enjoy directly from your home base. Located closely to the Gaislachkogl cableway station, your mountain adventure starts within a few minutes. Feel the gravity of the mountains and spend the summer of your life!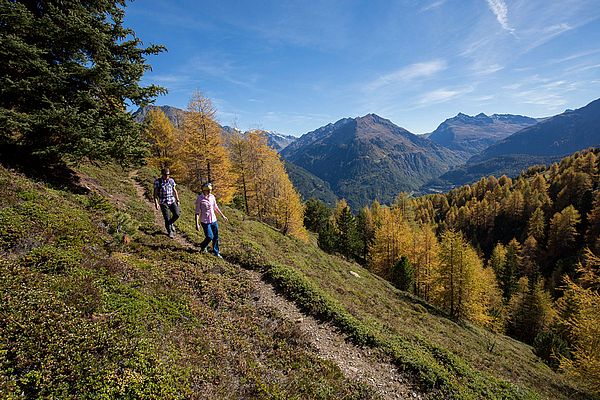 Sölden – a nation of bikers
Your bike vacation at Hotel Garni Urbanhof
Looking for a sensational biking area, fresh trails and rocky rides? Hotel Garni Urbanhof is the perfect place to stay for bike aficionados, as the Bike Republic Sölden is on our doorstep. Numerous rides with shaped lines, natural trails, enduro and MTB routes are awaiting you. Get some training on the two pump tracks in the valley and easily ascend the mountains with the Bergbahnen Sölden. Intermediate or adventurous beginner - here, everyone will find their favorite up or downhill line.

Bikeschule Ötztal
If you are a beginner, our in-house bike experts will teach you all techniques in our professional downhill and enduro classes. Our offer also includes guided MTB and racing bike tours – tips, tricks and insider information about the Bike Republic included. Join us on a discovery tour on wheels! Our house guests get a 10% discount on biking classes as well as on the bike rental fee in our partner shops in Sölden. Of course, as we are a certified biking accommodation, you will find a lockable bike room, a bike wash as well as a repair stand with all necessary tools in our house.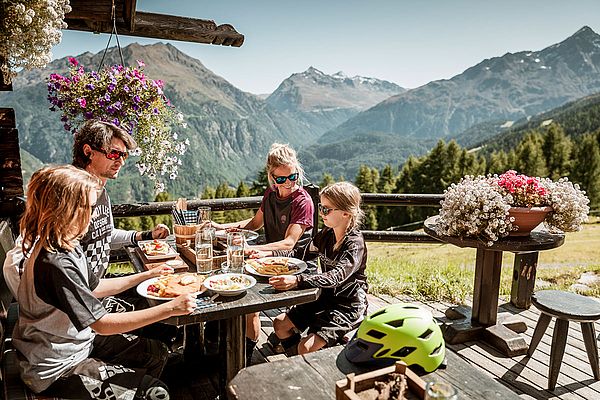 Breath in some fresh mountain air
Hiking in Sölden
Hiking is back! However, here, hiking and mountaineering has always been high fashion. So it's no wonder that Sölden is THE Alpine hiking region. More than 300 km of marked hiking trails as well as more than 30 huts offer a great choice of easy hikes or challenging mountain climbs alike. Simply start at our doormat, as numerous marked trails and paths are directly awaiting you there. Or choose the hiking bus or the Bergbahnen Sölden to get to the starting point of your next hike. The Gaislachkogel cableway station and various bus stops are within walking distance. Discover the mountains step by step - because not all who wander are lost!
I spy with my little eye…
Places worth seeing in the Ötztal
A wide range of leisure activities is waiting for those who want to discover the Ötztal off the hiking and biking tracks. Feel like an agent in the 007 James Bond Museum on top of the Gaislachkogl or visit the Crosspoint motorcycle museum located at the Timmelsjoch toll station. The Naturparkhaus in Längenfeld will teach you everything about the local flora and fauna, and the Piburger See, which is beautifully located on a plateau above the town of Ötz, offers a perfect swim on hot summer days. A cool-off is also guaranteed when visiting the Stuibenfall in Umhausen, which is the highest waterfall of the Tyrol. If you are looking for a bit more adrenaline, visit the incomparable outdoor playground AREA 47 directly at the entrance of the Ötztal and choose between high rope courses, canyoning, rafting, wakeboarding and many more activities. If you, however, want to unwind, spend your day at the AQUA DOME thermal bath in Längenfeld. A number of indoor and outdoor pools, healing thermal water and a 360° mountain view sum up to the perfect recreational spot, be it in summer or winter.